Oliver Beyer
Since the Armistice was signed between the Republic of Korea and The Democratic People's Republic of Korea (DPRK; North Korea) in 1953, tensions have remained steady between the two countries. With North Korea initially backed by communist support in the East and South Korea backed by countries from the West, the two nations were equipped in vastly different ways. As the Cold War progressed North Korea became increasingly secretive and isolated from the rest of the world. Today, North Korea releases more information regarding developments in weapons and military technology. As a result, analysts are allowed slightly more insight into its military forces.
As the country continues to upgrade its Cold War-era armaments, vehicles and equipment, trends in its camouflage uniforms have also become apparent. In many cases, these are patterns or designs that other nations have been utilising since the Second World War. Most countries in the world have at some point issued camouflage uniforms to at least one branch of their military. The development and selection of camouflage patterns in any given country can be affected by a wide range of factors, including the designer, the region in which a nation's forces may be expected to operate, as well as advances in technology, and limitations largely centred on logistic and economic challenges. In many cases, however, the primary deciding factor as to camouflage pattern selection is availability vs cost, which is largely a function of outside support. In many cases, larger nations supply smaller allied states with surplus uniforms, including those in older or obsolete patterns. In others cases, patterns may be licensed or simply copied from the commercial or military markets.
In the case of North Korea, the lineage of their patterns is evident. In the 1960s, the United States and the Soviet Union were scrambling to expand their respective influence and to each limit the other's by supporting various regimes around the world. Immediately after the Korean Conflict, North Korea began accepting Soviet-issued uniforms. The first pattern was the Soviet M1944 TTsMKK. This pattern was widely used during WWII by Russian border patrol, sniper, and recon units, and was subsequently passed on to North Korea's armed forces. They would continue wearing this pattern into the 1950s before it was replaced.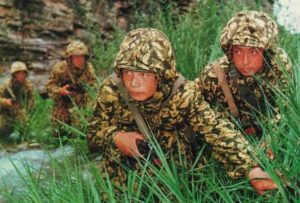 At some point in the 1970s, North Korea adopted a variant of China's Type 81 'Duck Hunter' camouflage. It is likely that production of uniforms in this pattern was either contracted to a Chinese company or the design and means of production were acquired by North Korea, where they then adjusted the design to their needs.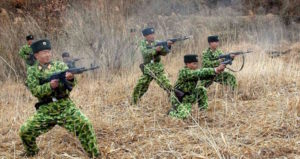 In the 1980s and 1990s, certain units were photographed wearing two new patterns which appeared to be variants of yet another Chinese pattern. Unofficially referred to as a 'Vertical Leaf' pattern, these two camouflage pattern share a striking resemblance to ones worn by units of China's Armed Police.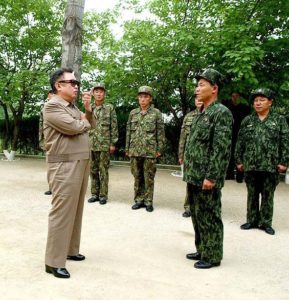 With the fall of the Soviet Union and a decline in support from China, North Korea created an original pattern in the late 1990s. Due to the secrecy of the North Korean state, the official name of the pattern is not known. Unofficially, it is referred to simply as the 'Blotch' pattern. From the pictures available this camouflage seems to somewhat resemble a few modern day digital patterns, characterised by its jagged edges and subtle transition between the different colours.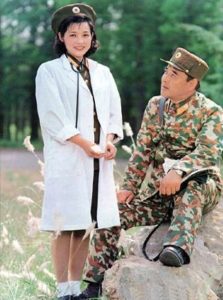 Today, the pattern that is most often seen is a 'woodland' pattern that was adopted in late 2010. Although the colours are slightly different, this pattern is very close to the US M81 woodland pattern, as well as South Korea's variant of the same pattern. After hearing of North Korea's adoption of this pattern, South Korea scrambled to replace theirs with the 'Granite B' digital pattern as to prevent confusion. Another pattern that is currently utilised by North Korea is a snow pattern that shares the same design elements as the M81 woodland copy in DPRK service. This pattern seems to be issued exclusively to mountain troops.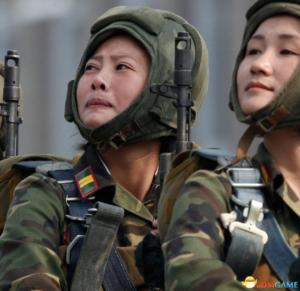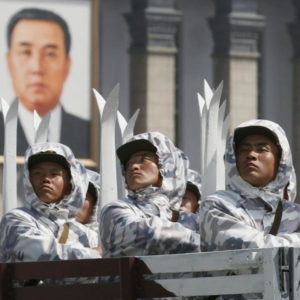 It should be noted that because of the lack information pertaining to North Korea's military standards and uniform requirements, a number of unknowns remain. It is difficult to determine exactly which units wear what designs, whether or not older camouflage patterns are still being utilised, and the total number of camouflage patterns which remain in limited service. Nonetheless, by analysing the camouflage designs employed by DPRK forces, a 'pattern' of state support over time begins to emerge.
Remember, all arms and munitions are dangerous. Treat all firearms as if they are loaded, and all munitions as if they are live, until you have personally confirmed otherwise. If you do not have specialist knowledge, never assume that arms or munitions are safe to handle until they have been inspected by a subject matter specialist. You should not approach, handle, move, operate, or modify arms and munitions unless explicitly trained to do so. If you encounter any unexploded ordnance (UXO) or explosive remnants of war (ERW), always remember the 'ARMS' acronym:
AVOID the area
RECORD all relevant information
MARK the area to warn others
SEEK assistance from the relevant authorities