Jonathan Ferguson
ARES 
Research Report No. 3 –
'Raising Red
Flags'
 documents the arms and munitions employed during the ongoing Ukrainian conflict. Amongst the small arms and light weapons documented, we identified (p.40-41) a Chinese spring-powered air rifle as a 'Norinco B3-1'. This is incorrect.
The air gun in question is fitted with a distinctive side-folding shoulder stock with plastic furniture, similar (but not identical to, and incompatible with) that fitted to the Norinco Type 56-2 assault rifle. It is of interest primarily due to its superficial resemblance to the 'real steel' rifle (particularly when the latter is not fitted with a magazine) and the potential for misidentification as a lethal weapon. It would be of almost zero value in a combat scenario. The original manufacturer is not in fact Norinco, but Xin Su Industrial Corporation (Xisico) in the city of Wuxi, Jiangsu province, China. The company is also known as
'Factory 971'
, in reference to the factory designation during former production of arms and munitions for the Chinese military. Their US-based subsidiary/distributor is Xisico USA. This particular rifle is designated 'BAM XS-B3-1' or simply 'XS-B3-1'. However, a rifle of near-identical design is also marketed by another Chinese company called 'Shaoxing Snowpeak', located in Shaoxing City, Zhejiang province.
This version
is designated 'B-5' (see image below). The relationship between these two companies and with other Chinese arms factories is unclear, but there does not appear to be any direct link with Norinco or any evidence, despite the Norinco-style shoulder stock, that the XS-B3-1/B5 is a Norinco product. Further, there are Norinco spring-powered air rifles
designated
'B3-1', 'B3-2', and 'B3-3' that are of a different design and feature conventional fixed wooden stocks.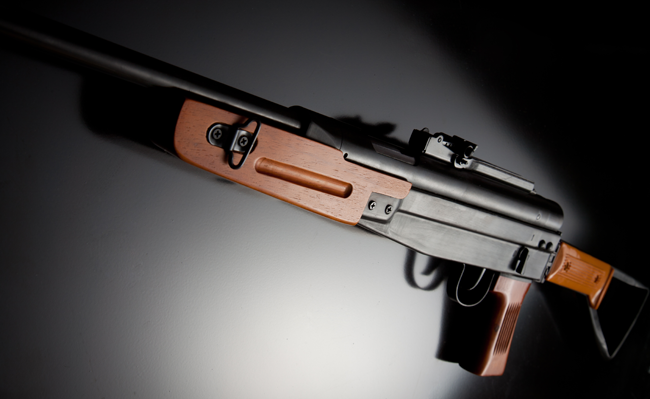 ARES is committed to ensuring technical accuracy in the identification and documentation of all arms and munitions. Publishing corrections, as necessary, is an integral part of producing sound, actionable intelligence.
Many thanks to reader 'DC' who contacted us in this matter.