Jonathan Ferguson
Images posted to personal Facebook pages of members of the Syrian pro-government Suqur al-Sahara ('Desert Falcons') non-state armed group prominently feature fighters posing with the Belgian-made FN 'Minimi' 5.56 x 45 mm light machine gun (LMG). Suqur al-Sahara has been described as an "elite" formation, primarily consisting of former soldiers.
The weapon in these images appears to be the same example (marked '2' on its lower receiver) in three images documented. It is fitted with the short 'Para' barrel, but the conventional fixed stock more typically seen on the standard longer-barrelled variant. A modernised top cover with 'Picatinny' rail is also fitted, but the fore-end is still furnished with the older-style plastic lower handguard and metal upper heat-shield arrangement of the original Minimi. Whilst the significance of the white number '2' is unknown, it may serve as a rack number or similar.
The Minimi as a type has been documented previously in both Iraq and Syria, notably in the hands of Islamic State, as well as with Iraqi Shi'a militias, Syrian armed groups supported by the US, and Kurdish forces. A true 'Para' example with the original FN pattern collapsible stock, as well as an optical sight and combined flashlight/foregrip accessory features prominently in the current issue of the IS newsletter 'al-Nabā' ('safe' PDF copy here).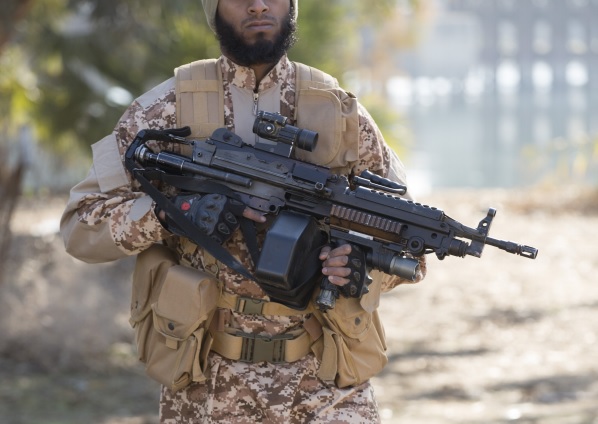 Regardless of which faction has access to this type, the propaganda message is clear wherever they are prominently displayed in media: this apparently modern 'Western' firearm suggests to the casual observer that a group is well equipped, well supplied, and has a technological edge over the enemy. These Suqur al-Sahara photos mark the first known appearance of a Minimi type light machine gun in service with a pro-Syrian government faction. In practical terms, the short barrel limits the effective range of the weapon, and although these examples retain their standard bipod, it has not been deployed in the image observed. Many non-state groups around the world typically employ belt-fed weapons from the hip or shoulder in any case, and a relatively lightweight, short-barrelled weapon like this is especially unlikely to be used as its designers intended. Essentially, such a weapon becomes a sustained-fire 'assault' rifle.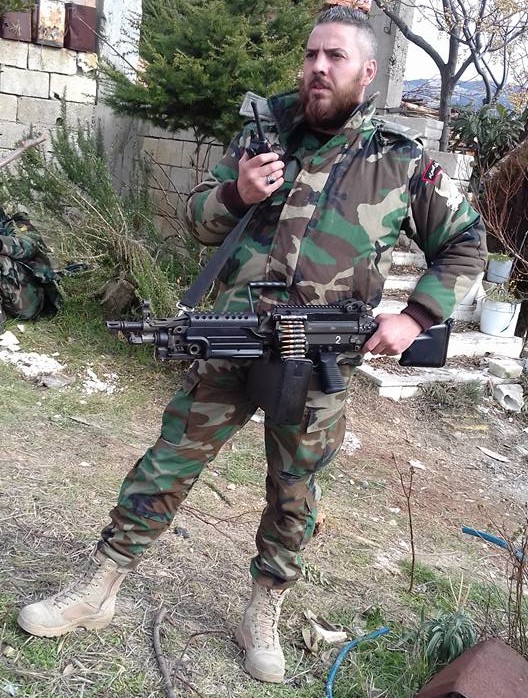 The FN Minimi ('Mini Mi' being short for 'Miniature Mitrailleuse') entered production in 1982. Adopted soon thereafter by the US Army as the M249, it has become something of a benchmark for its class, being widely adopted as the standard LMG for armed forces including Belgium, the US, UK, Latvia and numerous other nations. It is unclear where or how the pictured example was obtained, but given the large numbers of US M249 SAW (Squad Automatic Weapon) variants that have seen service with US and Iraqi troops since 1990, an Iraqi source is one distinct possibility. However, there are other possible sources, with some US-backed armed groups in Syria equipped with M249 LGMs, and Minimi type weapons available on the illicit market in Lebanon and Libya, for example. Other users within the region include Turkey and the UAE.
With thanks to @bm27_uragan

Remember, all arms and munitions are dangerous. Treat all firearms as if they are loaded, and all munitions as if they are live, until you have personally confirmed otherwise. If you do not have specialist knowledge, never assume that arms or munitions are safe to handle until they have been inspected by a subject matter specialist. You should not approach, handle, move, operate, or modify arms and munitions unless explicitly trained to do so. If you encounter any unexploded ordnance (UXO) or explosive remnants of war (ERW), always remember the 'ARMS' acronym:
AVOID the area
RECORD all relevant information
MARK the area to warn others
SEEK assistance from the relevant authorities