George Colclough
Overview
In October 2020, the Royal Thai Army (RTA; กองทัพบกไทย; kong thap bok thai) acquired two variants of a domestically produced 5.56 × 45 mm self-loading rifle derived from the AR-15, known as the MOD963. This acquisition represents a significant deviation from the norm for the RTA, which, despite having a long history of procuring domestically produced pistols, has been largely dependent upon foreign manufacturers for its rifles. The MOD963 was developed collaboratively by the Office of the Permanent Secretary for Defence from the Thai Ministry of Defence, the Pathumwan Institute of Technology, and the NARAC Arms Company Limited (NARAC). Known by NARAC as the 'NARAC556', the rifle is clearly not intended to be a game-changing design, but rather to serve as a reliable, dependable self-loading rifle that can be produced domestically. This is in line with Thai Ministry of Defence priorities to save money on costly foreign imports, and reduce dependency on foreign suppliers during times of crisis.
Technical Details
The MOD963 is a self-loading rifle based on the venerable AR-15 platform and chambered for the 5.56 × 45 mm NATO cartridge. The RTA purchased two variants of the rifle, the first with a 508 mm (20 in) barrel, known as the NARAC556 by the manufacturer and dubbed the MOD963 in RTA service, and the second with a 368 mm (14.5 in) barrel, known as the NARAC556AR and called the MOD963AR in RTA service. The manufacturer gives the effective ranges of these variants as 400 m and 250 m, respectively. The MOD963 series use a short-stroke gas system and have an adjustable rate of fire, although neither NARAC nor the RTA has clarified the parameters of the latter feature. The rifles are designed with a floating barrel and a modular barrel shroud that can incorporate accessory ('Picatinny) rails on the top, sides, and bottom, with the top rail running to the rear of the receiver to allow for greater flexibility in mounting optics. The MOD962 weighs 2.9 kg unloaded, and is supplied with 30-round polymer magazines, also produced by NARAC. This is a significant departure from the norm for the RTA, which has previously favoured traditional steel magazines in its AR-type rifles.
In promotional material, NARAC claims that the rifle is designed to be shot ambidextrously, and features a magazine release on both the left- and right-hand sides. Curiously, however, the MOD963 does not have an ambidextrous fire selector switch—NARAC has given no justification for this omission in its press releases or promotional material. ARES has approached NARAC for comment.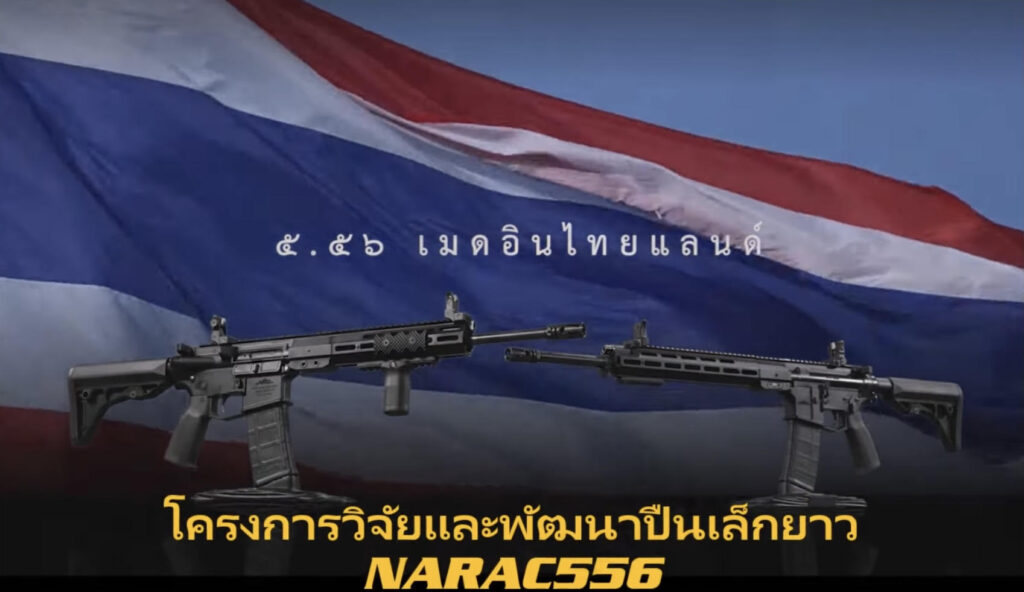 Development & Testing
The MOD963 originated with Thai Ministry of Defence programmes seeking to procure more domestically manufactured firearms, believed to be partially motivated by a desire to avoid potential negative geo-political ramifications of depending upon foreign suppliers. The Thai MOD has laid down a specification that any rifle made to fulfil contracts under the relevant programme should have at least 80% of its components manufactured domestically. NARAC claims to have met this requirement exactly. NARAC has not specified which components constitute the 20% manufactured abroad, however an analysis of the available material outlining their manufacturing and R&D processes provides some clues. Those components manufactured domestically are likely to include the upper receiver, the lower receiver, the bolt carrier, the gas key, the muzzle break, and the barrel shroud.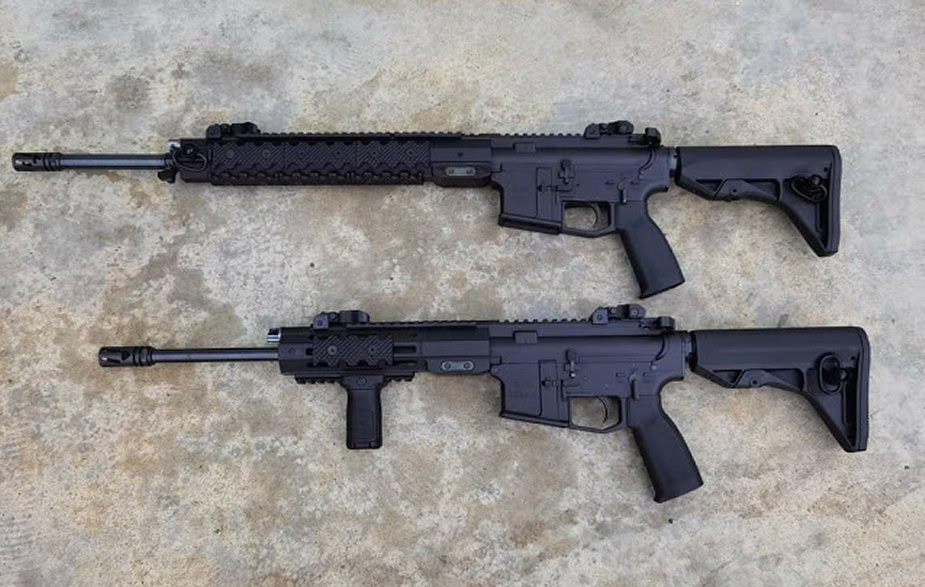 Currently available data indicates that NARAC was likely successful in producing a reliable rifle. The NARAC556 was tested extensively by the Thai Armament Standards Committee, during trials of 16 prototype rifles. Their tests show the rifle was reliably able to fire all 30 rounds from a full magazine after being submerged in both dry dirt and wet mud without failure. These tests were conducted with a loaded chamber and locked bolt, however. Testing also indicated that the rifle remained reliable after being fully submerged in water, and during testing in simulated heavy rain. During high temperature testing, the rifle continued to function without failure at 31.2°C and 77 per cent humidity. After extended submersion in a five per cent saltwater solution, all rifles tested were capable of discharging a full magazine without failure. Six rifles were subjected to a 6,000-round reliability test with all of them completing the test without a single failure.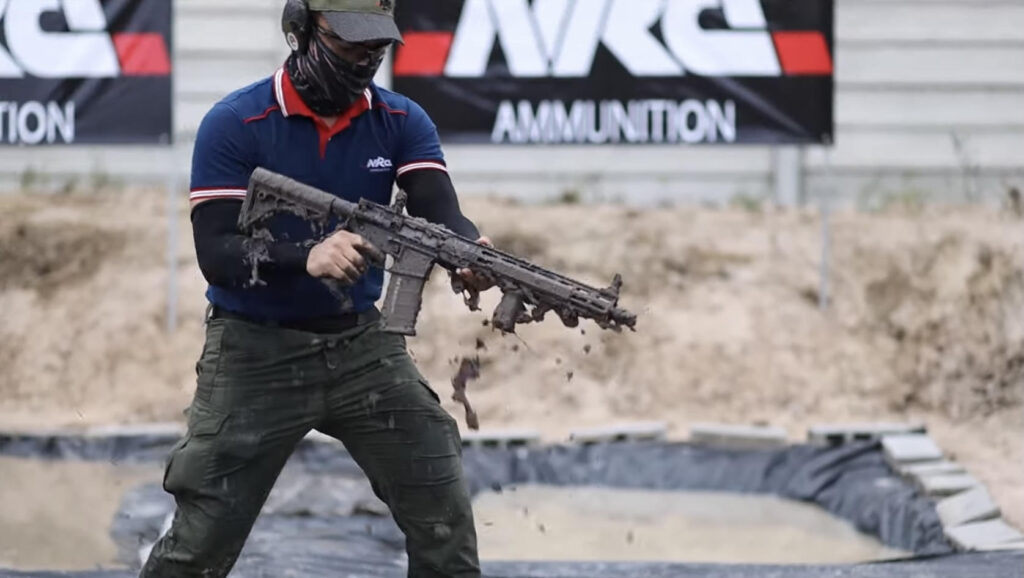 NARAC556PDR
NARAC also developed a third variant for the MOD963 family, which was not adopted by the RTA. The NARAC556PDR ('Personal Defence Rifle') has an even shorter barrel than the NARAC556AR/MOD963AR, but appears otherwise very similar. The barrel length has not yet been made public, but appears to be in the region of 305 mm (12 in). This variant appears to be a wholly manufacturer-driven development, as there is no requirement for such a rifle in the Thai MOD programme specifications, and the RTA does not appear to have publicly expressed any interest in adopting such a short-barrelled design. Nonetheless, NARAC have placed considerable emphasis on this variant in their marketing materials, and it may be intended for special applications or law enforcement use. ARES has approached NARAC for comment.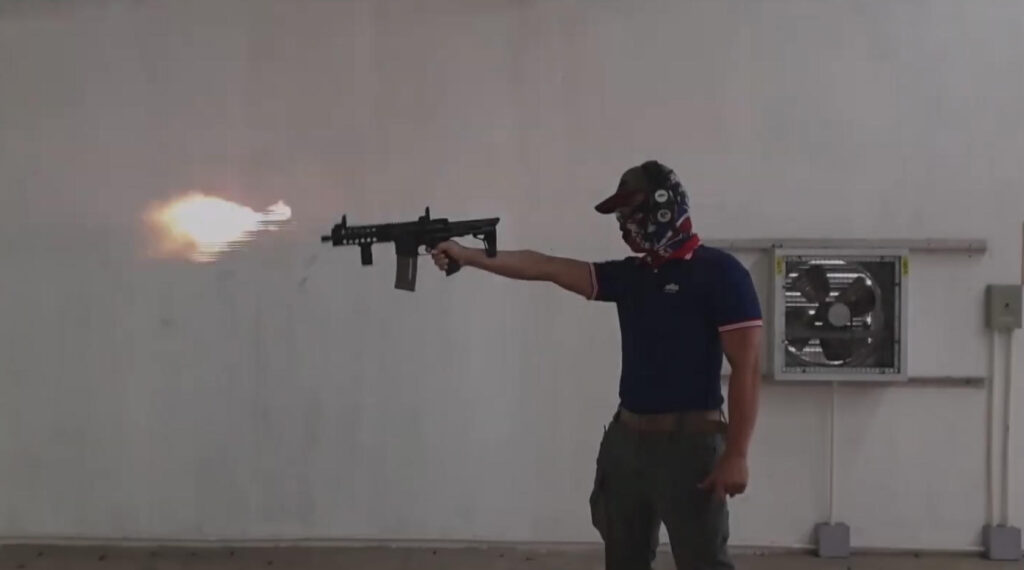 Issue
How widely and to which units the MOD963 series rifles will be distributed remains unclear. The RTA has made no definitive statements on the matter. It can be reasonably assumed that the rifle is not intended to become the standard service rifle for Thailand's armed forces, as the nation began procuring IWI TAR-21 rifles from Israel in 2009 for use as its new frontline rifle. It seems highly unlikely that a perfectly functional and relatively expensive firearm—which has been the subject of few complaints from the Thai soldiers it has been issued too—would be replaced so soon. It may be that the MOD963 rifles are intended for specific use by RTA troops still using M16 and CAR-15 rifles, such as military police and security battalions. ARES has approached the Thai government for comment.
Sources
Army Film Production. 2020. 5.56 เมดอินไทยแลนด์.  YouTube video: 25 September. <https://www.youtube.com/watch?v=6EbAgIoi8uc>.
จันทร์โอชา, ประยุทธ์. 2013. ประกาศกระทรวงกลาโหมเรื่องรับรองมาตรฐานต้นแบบอาวุธปืนเล็ก NARAC556 Carbine (ขนาดลำกล้อง ๑๔.๕ นิ้ว) Pak Kret: Defence Science and Technology Department.
Ministry of Defence, Kingdom of Thailand. 2020. สภากลาโหม Master ก.ย.63. YouTube video: 24 September. <https://www.youtube.com/watch?v=15u58_EsEC0>.
Nakpoom, Ekaphon. 2020. 'กระทรวงกลาโหมไทยจัดหาปืนเล็กยาวขนาด 5.56mm ที่วิจัยและพัฒนาในประเทศ'. AAG_th บันทึกประจำวัน รวมข่าวสาร Technology การทหาร และอื่นๆตามใจผู้เขียน ('AAG Daily Firearms and Technology News'). 2 October.<https://aagth1.blogspot.com/2020/10/556mm.html?m=1>.
NARAC Arms Company Limited. 2020. ปืนไทยประดิษฐ์ NARAC556 torture test. YouTube video: 11 July. <https://www.youtube.com/watch?v=HVH0e3VtwX8>.
NARAC Arms Company Limited. 2020. ปืนไทย 5.56mm. Full auto low recoil. YouTube video: 29 July. <https://www.youtube.com/watch?v=dGpiC9ATzGc>.
NARAC Arms Company Limited. 2020. ทดสอบมาตรฐาน NARAC556. YouTube video: 29 August. <https://www.youtube.com/watch?v=cCDJVCn0CNc>.
NARAC Arms Company Limited. 2020. NARAC556PDR. YouTube video: 30 August. <https://www.youtube.com/watch?v=QhKp_H00VRc>.
NARAC Arms Company Limited. 2020. R&D Process NARAC556. YouTube video: 31 August. <https://www.youtube.com/watch?v=kuLXF2fgOhc>.
ป.ปืน. 2020. Facebook post: 1 October. <https://web.facebook.com/Porpeunbybaster/posts/3185794194852044/>.
---
Remember, all arms and munitions are dangerous. Treat all firearms as if they are loaded, and all munitions as if they are live, until you have personally confirmed otherwise. If you do not have specialist knowledge, never assume that arms or munitions are safe to handle until they have been inspected by a subject matter specialist. You should not approach, handle, move, operate, or modify arms and munitions unless explicitly trained to do so. If you encounter any unexploded ordnance (UXO) or explosive remnants of war (ERW), always remember the 'ARMS' acronym:
AVOID the area
RECORD all relevant information
MARK the area from a safe distance to warn others
SEEK assistance from the relevant authorities