N.R. Jenzen-Jones
Update 21 April 2018: Information released today by US Air Forces Central Command (AFCENT) indicates that standard JASSM cruise missiles were used in the strikes, not the JASSM-ER as previously reported by the Pentagon. A spokesman also noted that F-22 Raptors took part in the operation, presumably flying counter-air. A good summary has been posted at The Aviationist.
Shortly after 0400 local time on 14 April 2018, a multi-national US, British, and French operation struck several chemical weapons (CW) production, research, and storage facilities in Syria. Three separate target sites were engaged, two west of Homs and one in Damascus. USMC Lt. Gen. Kenneth 'Frank' McKenzie indicated that all of the target sites were successfully engaged "without material interference from Syria", and that no attacking aircraft or missiles were intercepted. According to General McKenzie, the Syrian government launched more than 40 surface-to-air missiles with most of them launched "after the last impact of [the] strike". He also noted that it is "likely the regime shot many on a ballistic trajectory" (i.e. unguided), which could cause collateral harm. No Russian air defences were employed.
General McKenzie claimed that the coordinated strike mission will "significantly impact the Syrian regime's ability to develop, deploy, and use chemical weapons", and called the Barzah facility, which bore the brunt of the attack, "the heart of the Syrian chemical weapons program". He indicated that Coalition forces believe they have "successfully mitigated against" CW release at the sites struck, even though they assess that quantities of CW (both chlorine and sarin) and precursor chemicals were present in some or all of the locations. McKenzie attributed the mitigation of this threat – and the Coalition's assessment that no civilians were harmed in the strikes – to various factors, including the overall intelligence picture, the time of the strike, attack profile, weaponeering, and plume analysis. He said, "you balance, always, minimising collateral damage against achieving maximum military effect".
In total, 105 munitions were employed. Notably, not only were all of the weapons employed precision guided munitions (PGM), but all were cruise missiles. These missiles, launched from a combination of both aerial and naval platforms, were as follows:
Two of these weapons, the JASSM-ER and the MdCN, saw their first operational use in this strike. Some footage of MdCN missiles being launched has been released, as well as the photograph used as the header image for this article. Early indications are that both the JASSM-ER and the MdCN performed as designed. It is not clear if President Trump was referring to the first use of the JASSM-ER when he tweeted regarding "missiles", "they will be coming, nice and new and "smart!"". 
Weapon employment by target
The break-down of weapons employed by target is as follows:
Barzah Research and Development Centre
Purpose: CW R&D facility
Location: Damascus area
Munitions used: 76
57 TLAM
19 JASSM-ER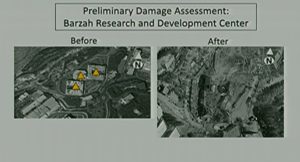 Him Shinshar CW Storage Site
Purpose: CW storage facility (former missile base)
Location: west of Homs
Munitions used: 22
9 TLAM
8 Storm Shadow
3 MdCN
2 SCALP-EG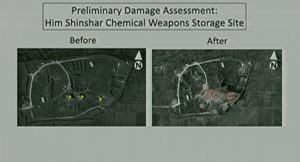 Him Shinshar CW Bunker
Purpose: CW production facility
Location: west of Homs
Munitions used: 7
7 SCALP-EG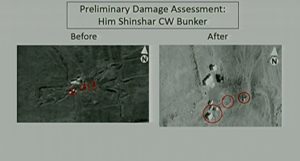 Weapon employment by platform
The break-down of weapons employed by launch platform is as follows:
Naval platforms
USS Monterey (CG-61)
Ticonderoga-class cruiser
Red Sea
30 TLAM
USS Laboon (DDG-58)
Arleigh Burke-class destroyer
Red Sea
7 TLAM
USS Higgins (DDG-76)
Arleigh Burke-class destroyer
North Arabian Gulf
23 TLAM
FS Languedoc (D653)
Aquitaine-class destroyer
Eastern Mediterranean Sea
3 MdCN
USS John Warner (SSN-785)
Virginia-class submarine
Mediterranean Sea
6 TLAM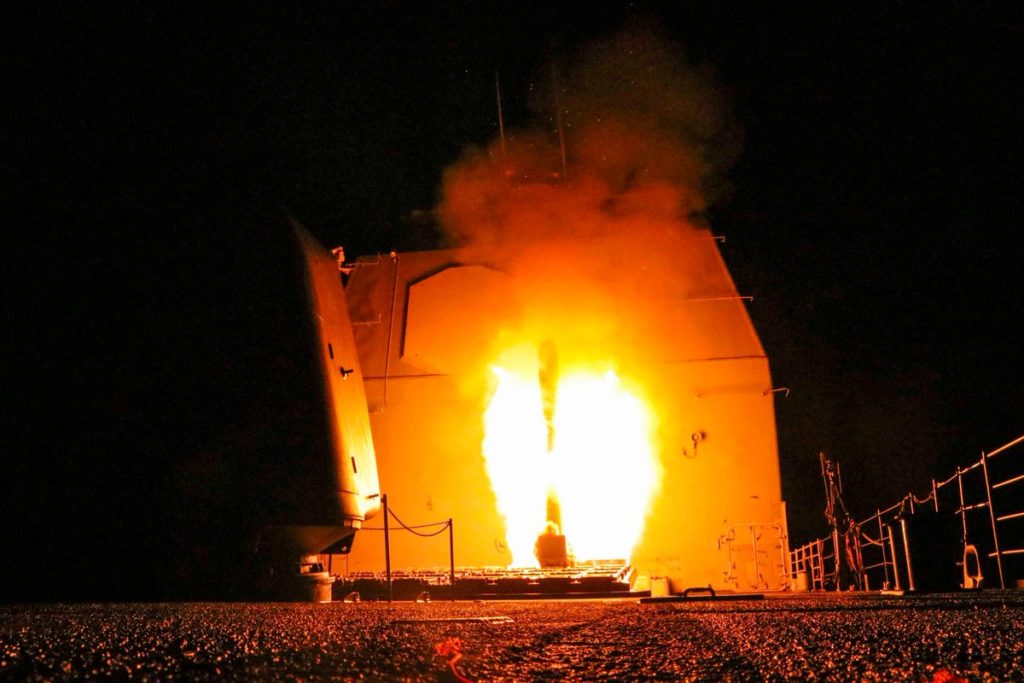 A TLAM cruise missile being launched from the USS Monterey (CG-61) in the Red Sea (source: US DoD). 
Aerial platforms
2 x USAF B-1B bombers
34th Bomb Squadron
Flying out of Al Uldeid Air Base, Qatar
19 JASSM-ER
4 x RAF Panavia Tornado GR.Mk4
903 Expeditionary Air Wing (EAW)
Flying out of RAF Akrotiri, Cyprus
8 Storm Shadow
5 x ALA Dasasult Rafale
Flying out of Saint-Dizier Airbase, France
9 SCALP-EG
Additional fighter aircraft (including RAF Typhoon FGR.Mk4, ALA Mirage 2000-5, and USAF F-15C & F-16C models) accompanied the 'shooters' during the strikes. Defensive counter-air was also positioned in the theatre, to protect against the possibility of hostile forces launching aircraft to engage the attackers.
Tanker (including USAF KC-135 & KC-10, and ALA C-135FR); electronic warfare (including USMC EA-6B); airborne early warning and control (AEW&C) and communications (including ALA E-3F and USAF E-11A); and intelligence, surveillance, and reconnaissance (ISR) (including USAF RQ-4B UAV & RC-135V) aircraft also took part in the operation. US Navy P-8A maritime patrol aircraft also appear to have been active in the area.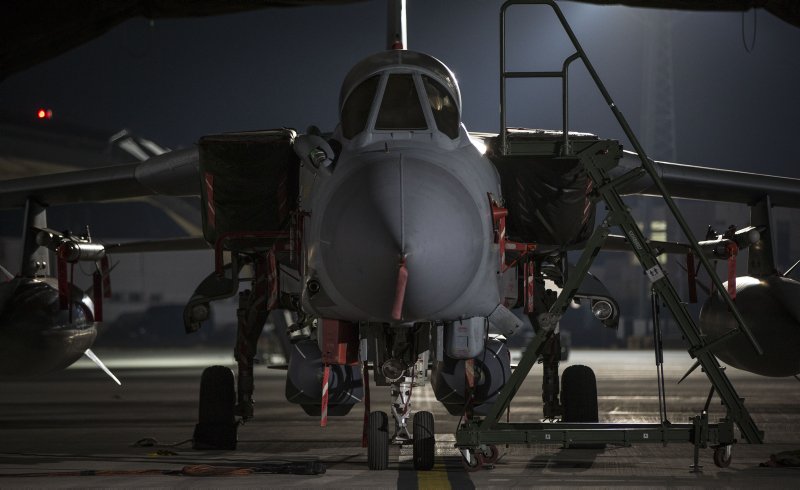 A RAF Panavia Tornado GR.Mk4 of the 903 Expeditionary Air Wing (EAW), before taking off from RAF Akrotiri, Cyprus (source: UK MoD). 
Sources
US DoD web portal
US DoD statement (video)
UK MoD statement
The Aviationist
The War Zone
Target images via @StratSentinel
Various others, as linked
Header image: MdCN cruise missile being launched from FS Languedoc, an Aquitaine-class destroyer (source: French MoD).