The Libyan revolution deposed the Qaddafi regime in 2011, bringing to an end the tight regulation of the domestic arms trade. Military stockpiles were raided, and small arms and light weapons made their way into the hands of non-state armed groups and private sellers. The subsequent conflicts after the fall of the Qaddafi regime have resulted in more weapons flowing into the country. From a virtually non-existent domestic market, the revolution and its aftermath paved the way for a large illicit arms trade. Like their counterparts in many nations, some of the players in this new market now sell their wares via the Internet. Online sales via social media platforms are one of the tools currently being used for this purpose.  
ARES is delighted to announce that a new Working Paper, authored by ARES Director N.R. Jenzen-Jones & ARES Researcher Ian McCollum, and commissioned by the Geneva-based Small Arms Survey, has been released today. Working Paper 26 Web Trafficking: Analysing the Online Trade of Small Arms and Light Weapons in Libya provides an in-depth analysis of the trade in SALW in the online marketplaces of Libya. The Working Paper ties together interviews with marketplace participants with detailed analysis of a dataset derived from long-term monitoring of some of the closed social media-based groups listing small arms and light weapons for sale. It explores the types of weapons offered and their likely routes into the Libyan online markets. It concludes with a policy-relevant analysis of the current state of Libya's online markets and discusses the caveats and utility of such online monitoring for supplementing field-based research.
The report indicates there is a "booming online black market" for arms and munitions, according to Director Jenzen-Jones. "It is reasonable to conclude that the online illicit weapons marketplace is growing in terms of both demand and supply," he said. Speaking with the Washington Post, Director Jenzen-Jones noted that "Whilst online trades appear to account for only a small portion of the illicit arms trade in Libya, this method's relative anonymity, low barrier to entry, and distributed nature means it is likely to pose unique challenges to law enforcement and embargo monitoring operations." Whilst companies responsible for some of the social media platforms which have been used for illicit arms trading have taken limited steps to curb the practice, the majority rely on users to report violations. ARES has documented several groups which have been shut down, only to reopen days or even hours later, with a core 'nucleus' of the same members. "It is difficult," Director Jenzen-Jones told the Christian Science Monitor, "to moderate these sellers effectively, due to the fluid nature of the trade." Numerous groups remain active in Libya and elsewhere.
Read the full report here: Web Trafficking: Analysing the Online Trade of Small Arms and Light Weapons in Libya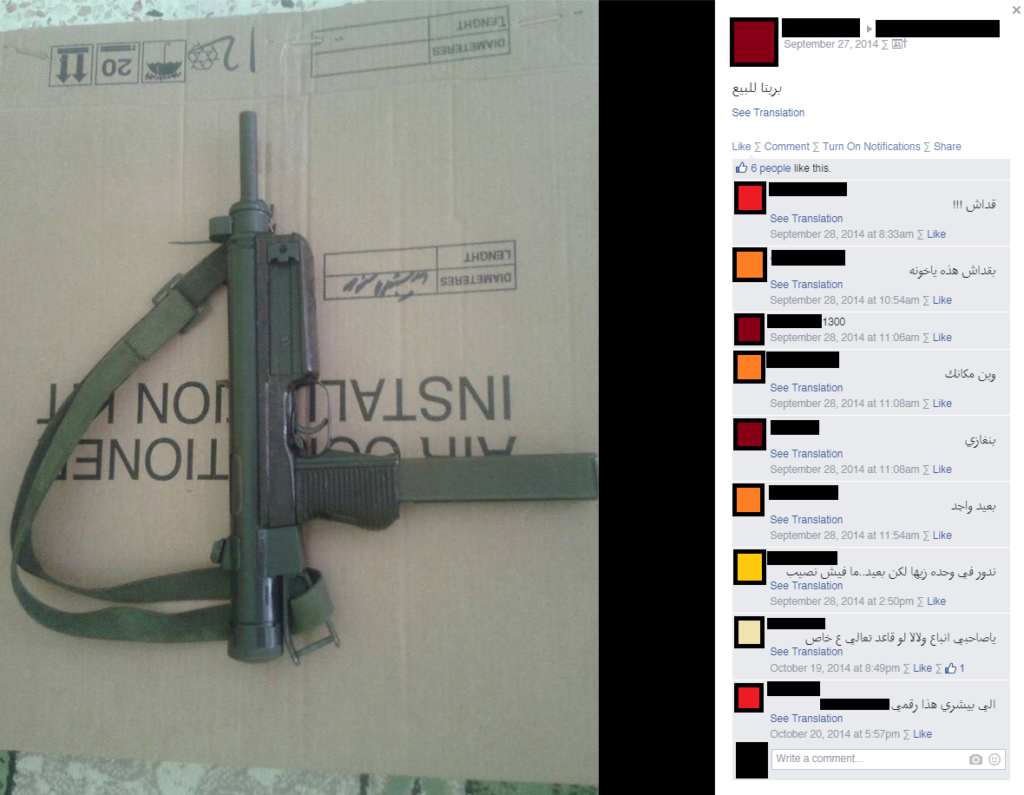 ARES continues to produce significant original research examining the online trade in arms and munitions, including small arms and light weapons. An earlier SANA Dispatch released by the Small Arms Survey specifically addresses light weapons, including MANPADS, traded online in Libya. Both of the reports released by the Small Arms Survey are based on open- and closed-source material collected and analysed by ARES researchers and analysts, compiled in ARES' proprietary Conflict Materiel (CONMAT) database, small portions of which are explored in each of these reports. The Working Paper draws on a 'snaphsot' dataset from a 12-month period (November 2014–November 2015), and addresses some 1,346 unique trades. The Dispatch is intended to supplement the findings of the longer report, assessing 97 light weapons documented over an 18-month period (September 2014–March 2016).
The ARES database itself contains more than ten thousand entries, several thousand of which relate to the online arms trade. It includes examples of arms traded via social media and communications platforms in nearly a dozen countries, including Egypt, Iraq, Libya, the Philippines, Syria, Ukraine, Yemen,  and elsewhere. ARES staff continue to monitor the illicit online trade in arms and munitions globally, adding new material to the database on a daily basis. In addition to arms and munitions, online groups monitored by ARES have offered counterfeit and black market cash, forged and stolen identity documents, narcotics, illicit alcohol, stolen or counterfeit security forces uniforms, advanced optics (including night vision and thermal imaging devices), body armour, communications equipment, and people smuggling services. Director Jenzen-Jones noted that the short reports commissioned by the Small Arms Survey "represent only the 'tip of the iceberg', and further study would be of substantial benefit."
Media enquiries: media@armamentresearch.com
Commercial enquiries: research@armamentresearch.com
Remember, all arms and munitions are dangerous. Treat all firearms as if they are loaded, and all munitions as if they are live, until you have personally confirmed otherwise. If you do not have specialist knowledge, never assume that arms or munitions are safe to handle until they have been inspected by a subject matter specialist. You should not approach, handle, move, operate, or modify arms and munitions unless explicitly trained to do so. If you encounter any unexploded ordnance (UXO) or explosive remnants of war (ERW), always remember the 'ARMS' acronym:
AVOID the area
RECORD all relevant information
MARK the area to warn others
SEEK assistance from the relevant authorities