The ARES Team
Images and video of FSA-aligned Syrian rebel units fighting in the Aleppo area, shared on social media platforms, as well as images of weapons captured by Iraqi security forces during the advance to Fallujah, have shown the use of the Bulgarian Arsenal MSGL revolver-type grenade launcher by various groups in the region. In addition to the MSGL, Iraqi security forces also seized a Sterling type submachine gun (at right in above photo) in one recent incident. This is likely to be either a modified Mk.4 model or a craft-produced copy, and is fitted with a large, craft-produced suppressor.
The Arsenal MSGL is a low-velocity revolver-type grenade launcher feeding from a 6-round cylinder, with an integrated ladder-style sight and removable front grip. With a weight of 6.53  kg (unloaded) and an overall length of 764 mm with the stock unfolded, the MSGL provides a relatively lightweight capability to rapidly employ multiple munitions of various types out to 400 meters. It is capable of firing a wide range of low-velocity 40 x 46SR mm ammunition up to 105 mm in overall length, including high explosive, high explosive fragmentation, screening/marking smoke, riot control agents, sound/flash, less-lethal impact, and more. The MSGL are packaged and shipped in boxes containing 5 units.
Arsenal also produces a variant of the MSGL, the MSGL-L, which has a longer chamber length and is thus capable of accepting 40 x 46SR mm cartridges with an overall length of up to 135 mm. As a result, it is capable of firing specialised rounds such as the Arsenal 40 x 46SR mm RLV-TB which features a thermobaric projectile. Whilst the perspective of some of the imagery makes positive identification of every example difficult, the models pictured in this post appear to be the standard MSGL.
It remains unclear how these weapons found their way into Syria and Iraq. The abundance of Bulgarian weapons in use by US-supported FSA units may suggest that the examples observed in Iraq were obtained by IS via battlefield capture from FSA forces in Aleppo, and later transported to IS positions in Iraq. Arsenal 40 x 46SR mm fired cartridge cases – marked to indicate production in 2014 – were documented by ARES in February 2016, which may further indicate that MSGL grenade launchers observed in Iraq originated in Syria.
Technical Specifications – MSGL
Calibre: 40 x 46SR mm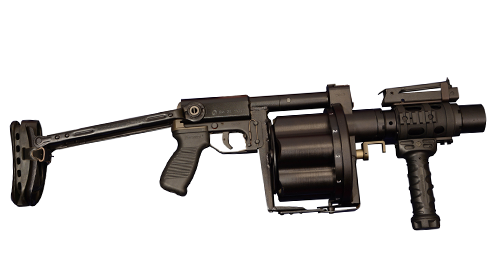 Overall length: 764 mm (530 mm with buttstock folded)
Barrel length: 230 mm
Weight (unloaded): 6.53 kg
Maximum range: 400 m (dependent on ammunition type)
Feed device: 6-round revolving cylinder (semi-fixed)
H/T to @MSchroeder77 & @theOSINTblog
Remember, all arms and munitions are dangerous. Treat all firearms as if they are loaded, and all munitions as if they are live, until you have personally confirmed otherwise. If you do not have specialist knowledge, never assume that arms or munitions are safe to handle until they have been inspected by a subject matter specialist. You should not approach, handle, move, operate, or modify arms and munitions unless explicitly trained to do so. If you encounter any unexploded ordnance (UXO) or explosive remnants of war (ERW), always remember the 'ARMS' acronym:
AVOID the area
RECORD all relevant information
MARK the area to warn others
SEEK assistance from the relevant authorities