Update 150828: A new image of the Hopak-61 rifle has surfaced (below), taken at the Arms & Security 2015 (ЗБРОЯ ТА БЕЗПЕКА – 2015) expo in Kiev and posted less than an hour ago. The rifle is manufactured by Mayak JSC, and is described as a modernised AKM rifle 'operational-portable'.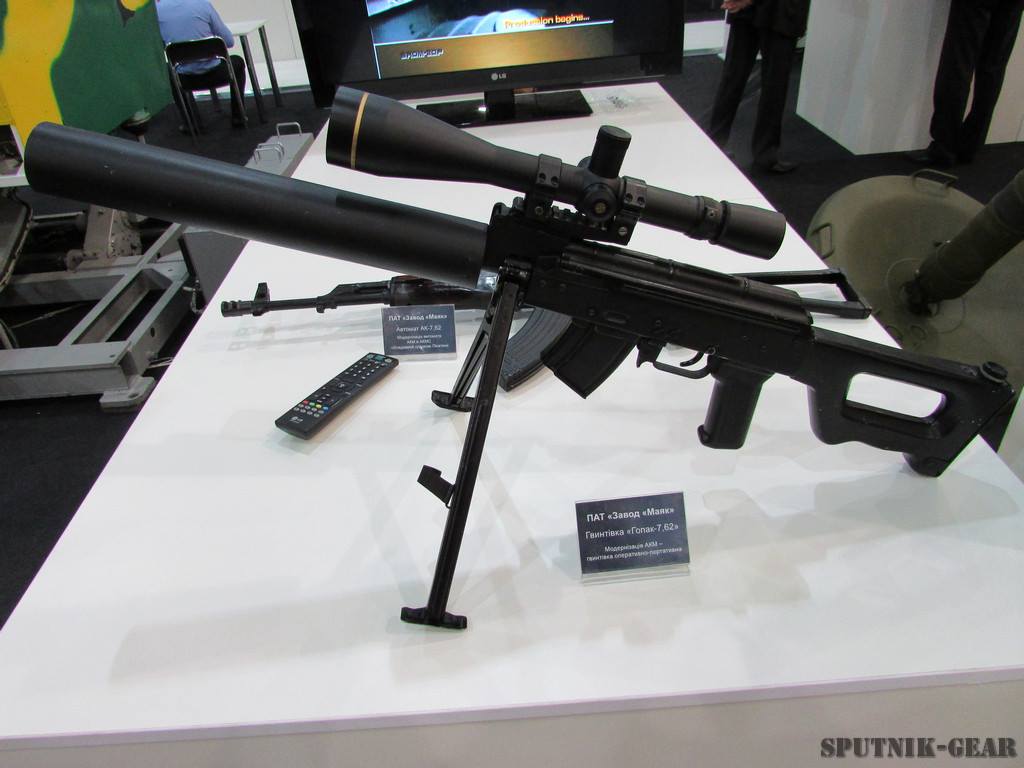 Michael Smallwood
Amongst arms and equipment inspected by Ukrainian President Petro Poroshenko on the 4th of April, one suppressed rifle stands out. The display of military hardware took place at a National Guard of Ukraine (NGU) training centre outside of Kiev, and displayed predominantly Ukrainian-produced armoured vehicles, small arms and light weapons, unmanned aerial vehicles.
In a line of small arms and light weapons on display shown above, the second-from-left rifle, with what appears to be an integral suppressor and bipod , is unfamiliar. A media release from the NGU sheds further light, listing among the arms displayed the Гопак-61, or 'Hopak-61'. A machine-translation of its description reads "operational portable rifle, based on AK/AKM". While the Hopak-61 appears to have a wholly conventional AKM-style receiver, complete with gas block, no gas tube is visible. This could indicate that the rifle is blowback operated, likely chambered for a pistol calibre cartridge, or that it is manually operated. 
Another weapon of note is seen on the far right, more easily identifiable in the photograph below. The UAG-40 automatic grenade launcher (AGL) is tripod-mounted, belt-fed, and capable of a 2200 metre maximum range. It is chambered for the 40 x 53SR mm cartridge, common amongst NATO and allied nations' AGLs, and weighs less than 30 kg complete with tripod. The UAG-40 is manufactured by the Leninska Kuznya plant in Kiev. Previously only the AGS-17 AGL has been documented in service with Ukrainian security forces, as noted in ARES Research Report 3, Raising Red Flags on arms, munitions and equipment of the Ukrainian conflict.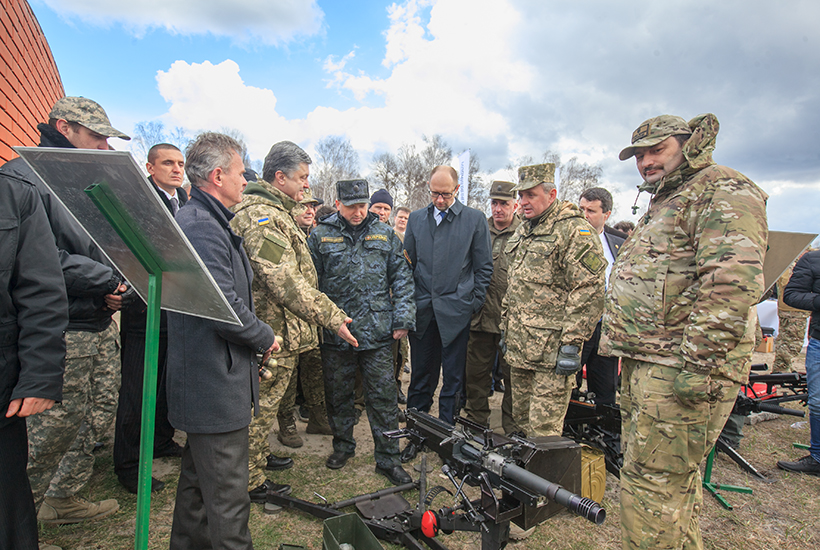 ARES would be interested in receiving further information on the Hopak-61 from anyone who may have material to share. You can contact us at: armsID@armamentresearch.com 
Special thanks to N.R. Jenzen-Jones, @AbraxasSpa, and Jonathan Ferguson for their assistance.