In the photo above, anti-Balaka militia forces near Bouar in the Central African Republic (CAR) can be seen posing with some of their weapons. The fighter at the far right is holding  what is likely a Chinese Type 56 assault rifle, whilst his compatriot in yellow is holding a Singaporean SAR 80 rifle. The SAR 80 has a modified buttstock, which may be a result of the rifle's notoriously weak plastic stock; it is not uncommon to see SAR 80 rifles without a stock in Africa. The magazine also appears to have been modified, perhaps to increase capacity. Generally, these sorts of modifications are not carried out particularly effectively in conflict zones, and can often lead to feeding issues.

SAR 80 photographed at the Weapons Destruction Workshop in Knaombe, Kigali, Rwanda. The stock is also missing from this rifle.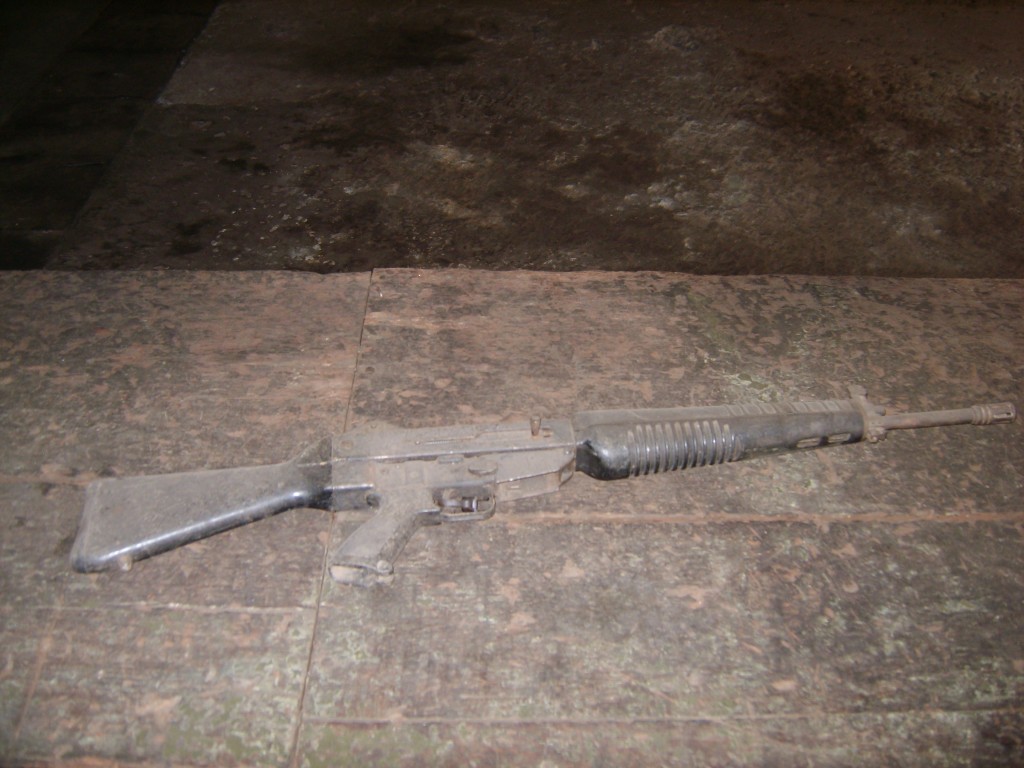 This image, taken in Kinshasa in the Democratic Republic of the Congo, shows an SAR 80 with the plastic stock still attached.
Singapore Assault Rifle (SAR) 80 rifles were designed and produced by Chartered Industries of Singapore (CIS; now ST Kinetics) in the late 1970s and early 1980s, and are chambered for the 5.56 x 45 mm cartridge. The rifle was not widely adopted by the Singaporean armed forces or police, and there are some 80,000 or more thought to be in circulation outside the country. SAR 80 rifles have been encountered throughout eastern Africa, with one source working with an NGO in central Somalia having personally destroyed about a dozen rifles. Mines Advisory Group destroyed 540 SAR 80 rifles in Rwanda during 2009. That constituted about 1.4% of all small arms destroyed, and about 2.4% of assault rifles destroyed. C.J. Chivers has also documented SAR 80 rifles in the hands of Somali pirates.

Peter Bouckaert of Human Rights Watch had the opportunity to document some 5.56 x 45 ammunition in CAR (with both the SAR 80 and M16A1 rifles seen in use), and kindly provided us with images of the three headstamps seen above. As is often the case in conflict zones, one magazine of ammunition contained cartridges from multiple producers around the world. From left to right, they are:
1. Produced by Gévelot S.A. of France in 1985 (second year marking character is hard to make out, but appears to be a '5'). The 'SF' marking refers to an older name associated with Gévelot, 'Société Française des Munitions de chasse, de Tir et de Guerre' (French Society of Ammunition for Hunting, Shooting and War; SFM).
2. Produced by Pretoria Metal Pressing Ltd (now PMP Denel) of South Africa in 1986.
3. Produced by Fábrica Nacional de Munições de Armas Ligeiras (FNMAL) of Portugal in 1984.
Thanks to Peter Bouckaert, Mark Hiznay, and Roly Evans for their input. Top and bottom photos copyright Human Rights Watch. Centre SAR 80 photos copyright Roly Evans. This post originally appeared at The Rogue Adventurer.