ARES Director N.R. Jenzen-Jones has authored a new Working Paper released by the Small Arms Survey, tracing the history and development of the self-loading rifle in military service. In addition to describing the evolution of the self-leading rifle and discussing the turn toward so-called 'modular' designs, the Paper provides a definition of these weapons, estimates of total cumulative production by type, and a discussion of issues surrounding their counting and classification.  
The Working Paper first distinguishes early technological developments that lead to the self-loading rifle, early iterations of these weapons, their design maturity during the Second World War, and self-loading rifles of the post-World War II era. It identifies some of the key rifles used by states' armed forces, and briefly summaries their adoption and production.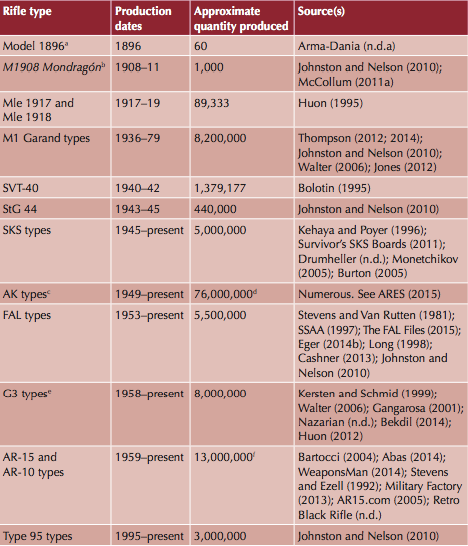 The report draws on a wide range of sources to provide an estimate of the number of self-loading rifles in circulation, arriving at a conservative estimate of 175 million. Sixty per cent of all self-loading rifles fall in into four main 'families' of weapons: AK type rifles (an estimated 76 million), AR-10 and AR-15 types (est. 13 million), G3 types (est. 8 million), and FAL types (est. 5.5 million). Taken together, these account for nearly 60 per cent of all self-loading service rifles to date. The report also addresses factors which limit more reliable estimation, including difficulties in disaggregating rifles produced for military use from those produced for law enforcement and the civilian market; unlicensed production; acquisition of state arms by civilians and armed non-state actors; arms refurbishment and repair; and the rise of modular firearms designs. Finally, the Working Paper assesses the longevity and durability of these rifles, in addition to how their parts as well as "complete" weapons circulate and the effects on categorising, counting, and tracing military small arms.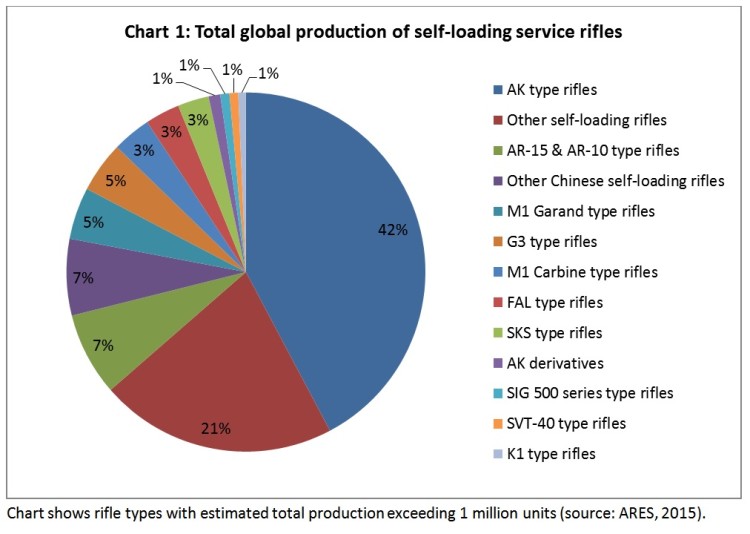 This Working Paper follows a related Paper authored by Jenzen-Jones and released by the Small Arms Survey, "Chambering the Next Round," which provides an account of emerging small-calibre cartridge technologies. The full Working Paper, "Global Development and Production of Self-loading Service Rifles: 1896 to the Present" can be read here.
Remember, all arms and munitions are dangerous. Treat all firearms as if they are loaded, and all munitions as if they are live, until you have personally confirmed otherwise. If you do not have specialist knowledge, never assume that arms or munitions are safe to handle until they have been inspected by a subject matter specialist. You should not approach, handle, move, operate, or modify arms and munitions unless explicitly trained to do so. If you encounter any unexploded ordnance (UXO) or explosive remnants of war (ERW), always remember the 'ARMS' acronym:
AVOID the area
RECORD all relevant information
MARK the area from a safe distance to warn others
SEEK assistance from the relevant authorities