Galen Wright
Iran commemorated the start of the Iran-Iraq War on September 22 with military parades across the country. This year, a private photographer affiliated with the military.ir forum provided a detailed look at one model of self-loading rifle favoured by the Revolutionary Guards Corps (IRGC), the Norinco CQ. The CQ is a copy of the US M16A1 developed in China during the 1980s and subsequently exported to various armed forces around the world. Examples have been documented in Sudan, South Sudan, Iraq, Syria, and other conflict zones. China has produced a number of CQ models,  including the Model 311, Model 311-1, Model 311-2, Model 311-3, CQ-A, and others.
Since 2001, a copy of the CQ has been produced by the Defense Industries Organization (DIO) Armament Industries Group (AIG) in Iran as the Sayyad 5.56 (S-5.56). It entered limited service by the mid-2000s, replacing most AK pattern rifles in use by the IRGC's special forces, the Saberin. This particular rifle is fitted with a number of after-market accessories that are part of a standardized modification program increasingly applied to Saberin rifles. These include:
desert 'digital' paint scheme (this appears to have been applied by hydro-dipping)
rail systems, replacing the earlier circular handguard and M16A1-style carrying handle
flip-up rear sight
forward hand grip and adjustable stock
There are some variations in this pattern – e.g. barrel length and type of foregrip – but on the whole the rifles reflect uniform procurement rather than individual customisation. The rifles also feature a bolt forward assist and are fitted with 20-round magazines. Both the forward grip and stock are commercially available products, with visually similar items marketed by Command Arms Accessories (CAA). However, these accessories could easily be unlicensed copies. Other recognition features include the curved pistol grip stamped with "CQ" lettering, and the eight-digit serial number, located on the left-hand side of the receiver (see below). This serial number format is consistent with other CQ type rifles which have been exported, including Chinese CQ rifles documented by the Small Arms Survey in South Sudan. The style of marking is different in the recent Iranian example, however.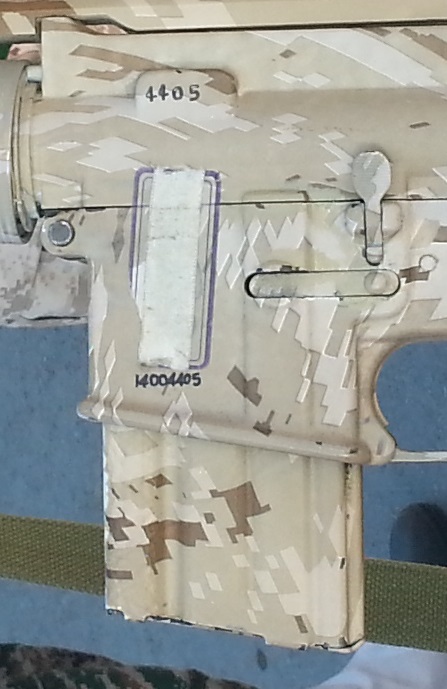 TFB have a short article here, on these images.
Remember, all arms and munitions are dangerous. Treat all firearms as if they are loaded, and all munitions as if they are live, until you have personally confirmed otherwise. If you do not have specialist knowledge, never assume that arms or munitions are safe to handle until they have been inspected by a subject matter specialist. You should not approach, handle, move, operate, or modify arms and munitions unless explicitly trained to do so. If you encounter any unexploded ordnance (UXO) or explosive remnants of war (ERW), always remember the 'ARMS' acronym:
AVOID the area
RECORD all relevant information
MARK the area to warn others
SEEK assistance from the relevant authorities