Alex Harper
Images of Iranian weaponry in Iraq have become more frequent in recent months, as clashes between the Islamic State (IS) and its opposition forces have intensified. These weapons are primarily being employed by Shi'a militias such as Kata'ib Hezbollah and the Badr Army, but have also been spotted in the hands of Kurdish Peshmerga fighters.
Small arms and light weapons (SALW), heavier weapon systems, and armoured vehicles from Iran have been transferred to forces within Iraq. Recently identified were a number of Iranian T72S tanks, while other notable systems include automatic grenade launchers, AM50 anti-materiel rifles, unmanned aerial vehicles, and vehicle mounted multiple-launch rocket systems (MLRS) and thermal weapon sights. Heavier artillery has also been spotted in the form of Iranian copies of the BM-21 Grad multiple-launch rocket system, the Hadid HM20.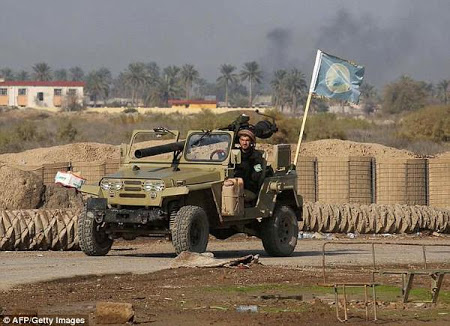 An Iraqi fighter in an Safir vehicle near Dhuluiya, circa January 2015.
One of the most conspicuous and numerous Iranian systems in Iraq has been the Safir light tactical vehicle. This vehicle is a rough copy of US M38 and M151 jeeps, and the Iranians have been producing them in large quantities since 2007-2008. It is a purpose built tactical vehicle designed to carry a variety of different weapon systems.
In Iraq, the weapons mounted on the Safir are usually 12-tube 107 mm multiple-launch rocket systems (of predominantly Chinese and Iranian origin), but images of Al-Safir vehicles with M40-type 106 mm recoilless guns (including Iranian-produced guns) have also been common. These vehicles have also been documented with anti-tank guided weapon (ATGW) systems or heavy machine guns, but these are significantly less common.
The Safir light tactical vehicle has likely been deemed well suited to the conflict in Iraq due to its cheapness and availability, but also as a relatively easy to use weapon platform for hastily recruited and trained Shi'a militia units. The versatility of its various weapon systems and its speed may also make it well suited to the operational environment – capable of matching the various weapon mounted pickups ('technicals') utilised by IS forces. It is hard to gauge the impact of the Safir at this stage, and its usefulness probably rests in its ability to provide recently expanded militia units with cheap and manoeuvrable indirect and direct firepower capabilities. As with other weapons and vehicles in the conflict, instances of capture by IS forces have already been documented.
Safir Specifications
| | |
| --- | --- |
| Length | 3510 mm |
| Width | 1690 mm |
| Height | 1880 mm (top of cover) |
| Wheelbase | 2310 mm |
| Ground Clearance | 230 mm |
| Gross Vehicle Weight | 2350 kg |
| Net Vehicle Weight | 1620 kg |
| Carrying Capacity | 600 – 750 kg |
| Max Power Output | 105 hp / 4800 rpm |
| Engine Size | 2389 cc |
| Engine Type | In-line 4 cylinder |
Al-Safir brochure images and technical specifications from, and special thanks to, Galen Wright. Header image courtesy of Henry Langston (VICE News). Other images from Getty Images and here.