N.R. Jenzen-Jones
ARES continues to conduct significant data collection and analysis pertaining to the illicit sale of arms and munitions via social media and communications platforms in conflict and post-conflict zones. From time to time, we will be featuring items of interest uncovered during our research, here on The Hoplite.
In late July, ARES recorded an AK-103 self-loading rifle for sale in Iraq.The weapon was offered for sale via a social media group associated with the black market arms trade in Iraq, with an asking price of 2700 USD. The AK-103 is essentially a modernised Avtomat Kalashnikova Modernizirovanniy (AKM), itself an updated AK series rifle first introduced in 1959. It shares features with the other rifles of the so-called 'AK-100 series', including a black phosphate finish on metal parts, black synthetic furniture and magazines, side-folding solid polymer stock, distinctive AK-74 type muzzle brake, and an optical sight rail on the left-hand side of the receiver. It is produced by Kalashnikov Concern (formerly IZHMASH). 
It is unclear how this rifle came to be in Iraq, however a large number are known to have fallen outside of state control during the 2011 Civil War in Libya. In late 2003 or early 2004, The Gaddafi government in Libya began negotiations with Russia for the purchase of a range of arms and munitions, including a sizeable but ultimately unknown quantity of AK-103-2 self-loading rifles. ARES has previously conducted an extensive assessment of shipping documents, packaging, and AK-103 rifles documented in Libya and elsewhere within the MENA region. AK-103 rifles have further proliferated from Libya, and have been identified in Algeria, Chad, Egypt, Mali, Niger, and Tunisia. None of these states – nor Iraq– are known to have imported AK-103 rifles.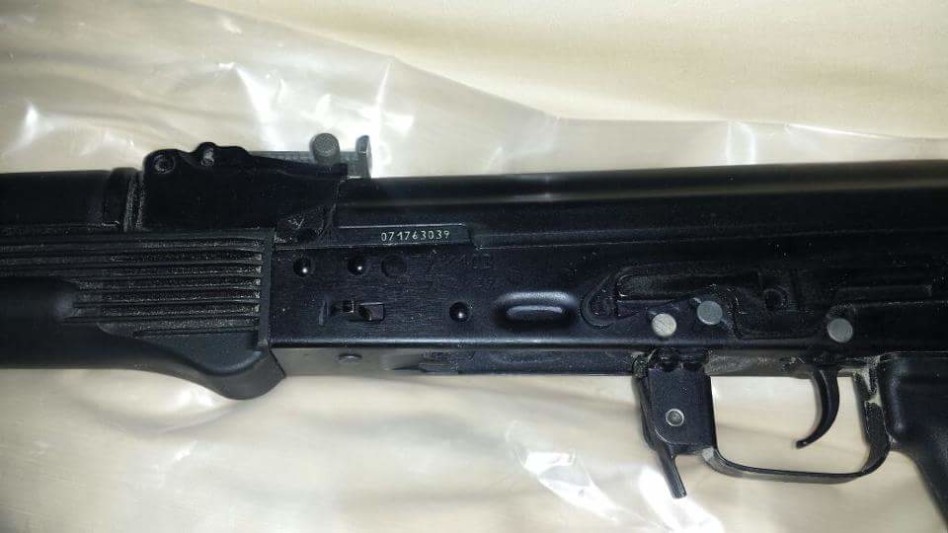 In one of the images posted by the seller, the weapon's serial number is clearly visible: 071763039. This is close to several '071' prefix serial numbers documented by ARES in Libya, including one beginning '0713'. An additional AK-103 rifle has since been listed for sale in the same group, in mid-August. Whilst the markings 'AK103' are just perceptible in the example documented, it is not possible to determine from the low quality image whether or not there is a '-2' present, which would indicate the weapon was the AK-103-2 model. The precise path this diverted weapon followed remains unclear at this point, however the further proliferation of the AK-103 self-loading rifle – until recently a rarity outside of state control – continues.  
Remember, all arms and munitions are dangerous. Treat all firearms as if they are loaded, and all munitions as if they are live, until you have personally confirmed otherwise. If you do not have specialist knowledge, never assume that arms or munitions are safe to handle until they have been inspected by a subject matter specialist. You should not approach, handle, move, operate, or modify arms and munitions unless explicitly trained to do so. If you encounter any unexploded ordnance (UXO) or explosive remnants of war (ERW), always remember the 'ARMS' acronym:
AVOID the area
RECORD all relevant information
MARK the area to warn others
SEEK assistance from the relevant authorities