Islamic State (IS)-linked 'news agency' A'maq has reported on 17 March 2016, via their official account on the messaging app Telegram, on the killing of "a Russian military advisor" during skirmishes between the Syrian Arab Army (SAA) and IS near Palmyra, in the Homs Governorate of Syria. A video shared by IS shows the deceased combatant alongside a selection of his equipment.
The rifle pictured is a heavily customised AK-74M self-loading rifle. The Ak-74M is a selective-fire, gas-operated self-loading rifle chambered for the 5.45 x 39 mm cartridge. It is a development of the AK-74 rifle, first introduced in 1974, itself a derivative of the ubiquitous Avtomat Kalashnikova (AK) series of rifle. In 1991, the AK-74M was introduced into Russian military service; it is most readily identified by its side-folding solid polymer  stock, black polymer furniture, and sling swivels, as well as the distinctive muzzle brake of earlier AK-74 series rifles. This particular example is fitted with a range of post-manufacture accessories, including an adjustable buttstock, a CAA fore end with multiple accessory rails, top accessory rail, and alternative pistol grip. The rifle is also fitted with a suppressor in place of the distinctive muzzle brake, and an IWT 336 Tsiklop ('Cyclops') thermal weapon sight with backup Docter CQB reflex sight. The weapon and its magazines have been painted in a camouflage scheme.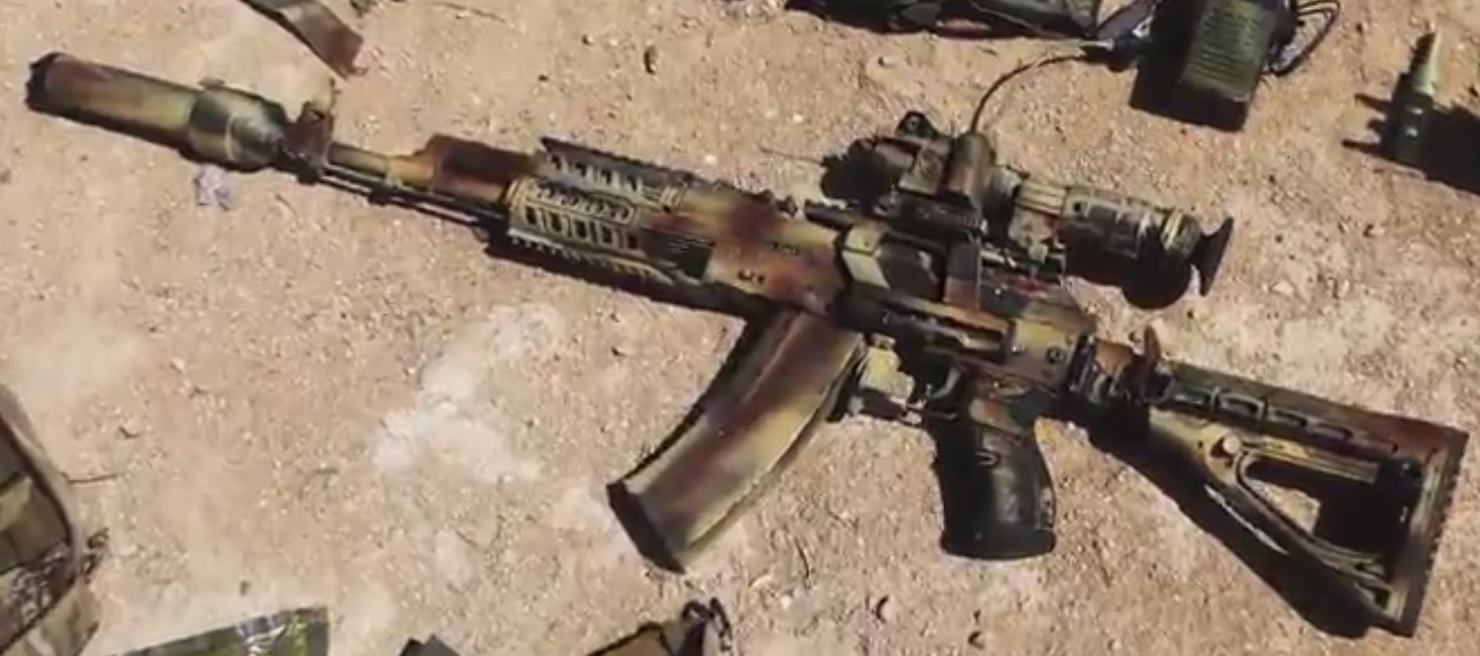 The video also shows other captured equipment, including a helmet with camouflage cover, accessory rail, and adjustable LED light; MIB multi-function munition; CORE Survival Hel-Star series strobe; navigation equipment, including a compass and Garmin GPS unit; individual first aid kit (IFAK) including CELOX brand haemostatic bandages; personal radio; dust goggles; guarana 'energy shots'; a 5.11 brand watch; and several other items.
The equipment is consistent with that issued to and acquired by Russian special operations forces (SOF) in recent years, including items documented in service with Russian SOF in Ukraine and elsewhere. The presence of mine-clearance equipment, including a Russian made IMP-2 metal detector and mine clearance probe, and what appears to be a pull line and hook, may indicate the combatant was an explosive ordnance disposal (EOD) operator.
Special thanks to @AbraxasSpa, @bm21_grad, Jonathan Ferguson (ARES), Ivan Kochin, and Jonathan Marcus (BBC). Note: an earlier version of this post identified the optic as an IWT  640. It is, in fact, an IWT 336. 
Remember, all arms and munitions are dangerous. Treat all firearms as if they are loaded, and all munitions as if they are live, until you have personally confirmed otherwise. If you do not have specialist knowledge, never assume that arms or munitions are safe to handle until they have been inspected by a subject matter specialist. You should not approach, handle, move, operate, or modify arms and munitions unless explicitly trained to do so. If you encounter any unexploded ordnance (UXO) or explosive remnants of war (ERW), always remember the 'ARMS' acronym:
AVOID the area
RECORD all relevant information
MARK the area to warn others
SEEK assistance from the relevant authorities