ARES is proud to announce the release of the sixth publication in our Research Report series, entitled "Spanish C90-CR rocket launchers & Alhambra hand grenades in Yemen". Some excerpts from the report follow:
The report examines two products from the Spanish defence firm Instalaza S.A. which have been identified in the hands of Houthi rebel forces during the ongoing conflict in Yemen. These two weapons – C90-CR series rocket launchers and Alhambra series hand grenades – are not known to have been held in the inventory of the Republic of Yemen Armed Forces. However, they are in service with Saudi Arabia and were most likely obtained by way of battlefield capture.
It is reasonable to suggest that the capture of the weapons as outlined in this report likely represent only a fraction, albeit perhaps one significant for its types, of the total inventory of Spanish weaponry in Houthi rebel position. It is also reasonable, therefore, to anticipate that Yemeni forces may come into contact with more of these weapons in future.

Both the Alhambra series grenades and, in particular, C90-CR series rocket launchers will prove useful to Houthi forces. Despite the latter's shortcomings, in a theatre like Yemen where few modern armoured fighting vehicles are the present, the limited armour penetration capability does not detract too significantly from the usefulness of these weapons. Against light vehicles – such as the civilian 4 x 4 pickup trucks and light tactical vehicles – this lightweight, portable system packs a potent punch. It is ideal for use by irregular infantry and special forces, being light and handy at shorter ranges. As such, it remains a useful weapon system in the hands of both Saudi and Houthi forces.
The report can be read in full here.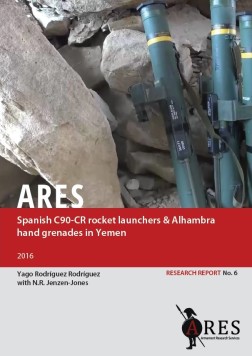 Remember, all arms and munitions are dangerous. Treat all firearms as if they are loaded, and all munitions as if they are live, until you have personally confirmed otherwise. If you do not have specialist knowledge, never assume that arms or munitions are safe to handle until they have been inspected by a subject matter specialist. You should not approach, handle, move, operate, or modify arms and munitions unless explicitly trained to do so. If you encounter any unexploded ordnance (UXO) or explosive remnants of war (ERW), always remember the 'ARMS' acronym:
AVOID the area
RECORD all relevant information
MARK the area to warn others
SEEK assistance from the relevant authorities